Deejo Knife – An innovation
A knife is the simplest and the earliest of tools that were created and used by the human race since ages back. Though their shape and form have changed from time to time, from stones to shells or other sharp-edged tools were commonly used for scraping, cutting, dicing, slashing, and more.
But their evolution till today has gone through a lot of changes, and transformation is amazing. A vast range of materials are used for their construction, and this standard tool has come up with a long journey of evolution and consistent and continuous development.
This is something pretty familiar in Canada to carry a pocket knife as an EDC (Everyday Carry). Just the time while I am boarding a commercial aircraft, the Knife is not with me, of course, due to strict rules and regulations, and the rules should strictly adhere too.
With time I have managed to own a decent collection of pocket and folding knives along with other multi-tools. My agenda for the day makes me decide which Knife I am going to opt for that day.
I was busy shopping on a Sunday, and that is the time I came across a new knife Deejo, a European brand, perhaps.
Origin of Deejo knife?
A trademark from Coriolis, Deejo, was founded by Luc Foin and Stéphane Lebeau. A boutique design firm, which is from France, Bagnolet, is where the Deejo is created. The knives are constructed with creativity and innovation since 1995 and are used the world over. Baladeo and Deejo being the most preferred ones.
More about Deejo
Three types and styles in three varied sizes are what Deejo is currently offering.
Deejo Naked

Deejo Wood

Deejo Colors
FEATURES
They are available in three different sizes of 15, 27 and 37 grams

These knives are ultra-light in weight and constructed with high-quality stainless steel

They have full customization features such as handles, name engraving, and signature tattoos.
DEEJO NAKED
This is the lightest series and just a stainless-steel which is joined in the center. The overall design is unique, and the blade is positioned decently into the handle. If you go for a 15-gram option, then no belt clip is included. As the name suggests that it is naked, means no plastic, and wood is used for this series.
DEEJO WOOD
This is a bit similar to that of Naked Series but adds a beautiful look to the design of the Knife with a wooden handle. The handle of the Knife increases the thickness and doesn't let it remain slim. This adds great color and luster, and the wood types include Olive Tree wood, Juniper, Rosewood, Exotic Ash, etc.
DEEJO COLOR
Now this one is an extension of the Wood Series and possesses a handle that is thin and is colored polycarbonate. This is along the front side and is hard plastic, available in a variety of colors. The series isn't tested.
The Knife and its performance
This is appealing Knife, sleek, and features extremely lightweight. Looks wonderful when this comes out of the box, but to my disappointment, the edges of this I found a bit dull. I thought of doing a paper-test, and it proved successful as the paper was cut into nice thin pieces without tearing.
Though, after using it for more than two months, I am satisfied with the edges of the Knife. Without any uneasiness, I could sharpen the Knife with a wet stone. A medium-grade steel 2CR13 is used for the construction of the Knife. Initially, I thought the knife joint would be a bit weak, but to mu surprise it did not get loosened and still works well after continuous use. Few people have concluded in their reviews about the loosening of the lock pin, but this wasn't in my case, and I am a satisfied user of this Knife.
The Juniper wood handle is a part of my 37g and is delicate and thin. Initially, I was hesitant that this might break or get chipped. This is worth mentioning that the wood which is held to the steel with a tiny screw has split and chipped. You should not worry as this doesn't affect the functioning of the Knife at all.
The Material, Look and Feel
The company promises quality and durability in terms of its form and function as a whole. There is a blend of both traditional and modern materials. This is simple, made of 420 stainless steel. A simple knife which is admired by individuals who are fashion conscious, and the Knife when made to sit in the pocket doesn't spoil the crease of the pants or suit.
The feather-like weight makes its storage and transportation easy and convenient. This is far better than the heavy tactical knives and makes many raise their eyebrows, showing a keen interest in the Knife. Overall, these are balanced knives with some extra character and beauty. The line-retention clip (slim) is integrated, which keeps the Knife handy and easily accessible from the pocket or belt.
The Comparison – Deejo 37g, 27g, and 15g
The largest one is 37g, and I selected it for comfortable usage. When kept folded, it measures 11 centimeters and boasts of ergonomics and impressiveness beyond compare. This features a subtle-curvature, with a skeletal-loop design, and an easy to grip Knife with a wooden handle. I found it the finest.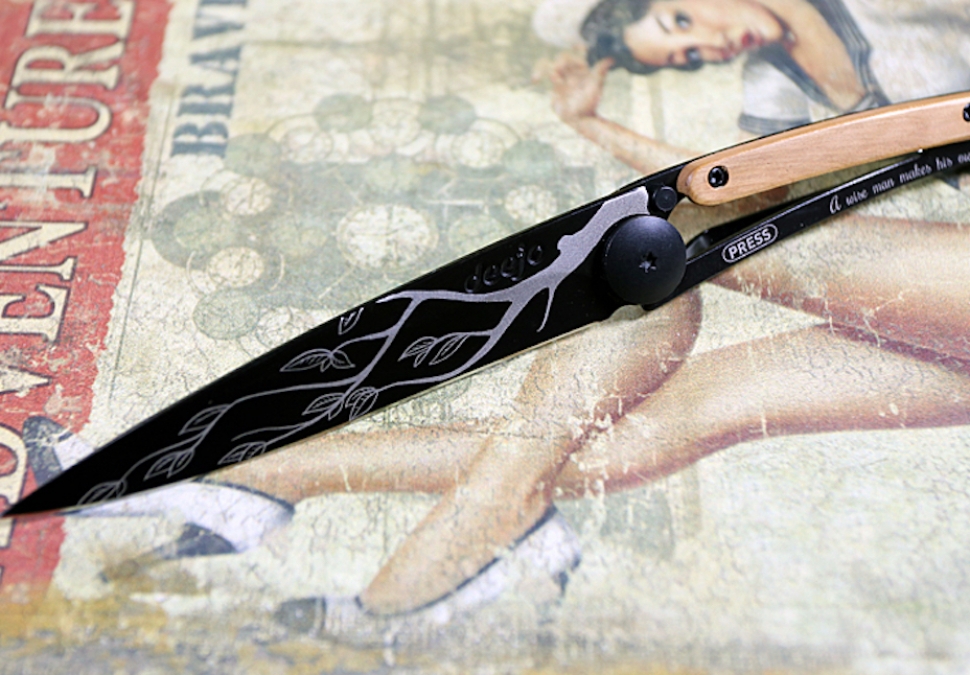 This is available in 3 blade finishes, which are the mirror, black titanium, and grey titanium. The tattoo process (maximum of 35 characters) is also available, and they are available in a wide variety. A flawless knife we can consider and the wood adds on to its aesthetic value. The military gear and watches feature a fine titanium finish, and this one also comes with the same. I am impressed!
At the rear of the handle is Juniper wood, and this is a bit of trouble; otherwise, the Knife is just perfect. The Knife comes with different price ranges. Though the lighter ones of 15g and 27g, I carry for small-duty use for my trips. They are so compact and easy to store, and I just love them while taking in my backpack for trips.
Summing-up
These are cool knives that are functional too, and I love to carry the 15g in my backpack for hunting adventure trips and camping. But for other heavy-duty purposes, I like the 37G Deejo, which I can carry everywhere in my pocket. These knives are a fashion statement, cool and reasonably functional too.
They are so compact that an average hiker, be it a man or woman can use it during their training or adventure. I recommend you to have one and use it as an EDC, without any hassles and doubts. Just give it a try! You will feel proud to add it to your collection of knives. I am sure!
Check Alternative Brand